Under these rules, a separate notification has been made regarding the final detailed procedures for the Mandatory Testing and Certification of Telecom Equipments (MTCTE). For the testing of the equipment for compliance with Essential Requirements, Indian Accredited Labs designated by TEC shall conduct the testing and TEC shall issue a certificate based on the lab's test report.
Let's​
Transform
your Business
Overview
According to the Indian Telegraph, all telecom equipment must undergo mandatory testing and certification before being sold, imported, or used in India. Under these rules, a separate notification has been made regarding the final detailed procedures for the Mandatory Testing and Certification of Telecom Equipments (MTCTE). For the testing of the equipment for compliance with Essential Requirements, Indian Accredited Labs designated by TEC shall conduct the testing and TEC shall issue a certificate based on the lab's test report.
With ICStask, you can count on us to provide you with all the services you need from registration to certification in India (New Delhi). Accordingly, we follow all instructions of the Ministry of Communications and Information Technology, which does not allow us to merely direct you to the certification.
TEC is the Nodal Testing and Certification Organization for Telecom Equipment attached to the Department of Telecommunications of the Government of India. It has traditionally handled a variety of approvals for equipment that interacts with or connects to public networks. Examples include approvals for equipment types and interface approvals for equipment. Generic Requirements (GRs) and Interface Requirements (IRs) published by TEC determine if a product meets the requirements for approval.
In addition to this new regulation, TEC also issued another directive known as "Mandatory Testing and Certification of Telecom Equipment" (MTCTE).
The MTCTE, notified under the Indian Telegraph Act, requires all telecom equipment (whether or not it connects to a public network) to undergo mandatory testing and certification before being sold, imported, or used in India. MTCTE requires testing of the equipment according to Essential Requirements (ERs) by Indian Accredited Laboratories designated by TEC. TEC issues the certificate based on the test reports. All certificates are valid for five years after they are issued. Testing on representative models is permissible for the approval of the family of equipment.
Phases of MTCTE for equipment
In any Telecommunication/Telegraph establishment that uses or has the capability of using electronic or telecommunication equipment, the equipment shall undergo Mandatory Testing and Certification of Telecommunication Equipment (MTCTE). Each Essential Requirements (ER) document is published periodically by the Telegraph Authority.
As of September 5, 2017, the Department of Telecommunications of the Government of India mandated that all telecom equipment be tested and certified prior to sale, import or use within India.
All types of equipment connected to or capable of connecting to the Indian telecommunications network would be covered by the certification.
For the purpose of administration of the Mandatory Testing and Certification of Telecom Equipment (MTCTE) procedure and Surveillance Procedure, the Telecommunication Engineering Centre (TEC) which operates under DoT has been designated as the Telegraph Authority.
A test will be conducted by Indian Accredited Labs designated by TEC to make sure that the equipment complies with the Essential Requirements (ERs) issued by TEC. For each model of equipment, TEC issues the certificate based on the test results issued by designated labs.
In order to sell or import telecom equipment in India, Original Equipment Manufacturers (OEMs), importers, and dealers need to obtain a Certificate from Telecommunication Engineering Centre (TEC) and affix the appropriate Certificate label to the equipment.
In terms of testing of equipment, there are two phases, but they test separate kinds of products. The minister of telecommunications actually aims to make up to the mark and set a high standard for telecom products.
Tests and certifications for telecommunications equipment will take place under phase-II of Mandatory Testing and Certification of Telecommunications Equipment (MTCTE) regime prescribed in India
The products covered in Phase-I:
Here is the products name that is covered under the phase-I of MTCTE:
⦁ 2-Wire Telephone Equipment
⦁ G3 Fax Machine
⦁ Modem
⦁ Cordless Telephone
⦁ ISDN Customer Premises Equipment
⦁ Private Automatic Branch Exchange
Following products listed under Phase-II:
Phase II of the test involves checking other products by their standard.
⦁ Passive Optical Network (PON) family
⦁ Feedback Devices
⦁ Transmission Equipment (SDH, Multiplexing Equipment)
Following products listed under Phase – III & IV: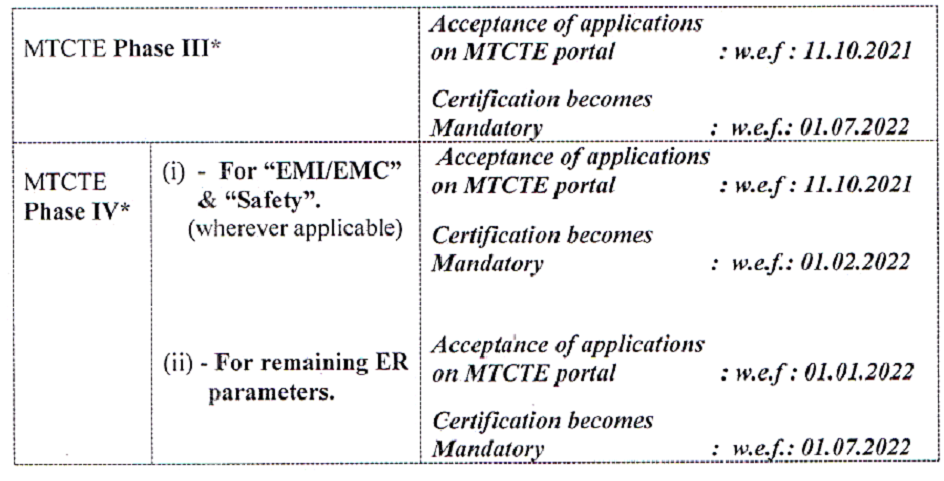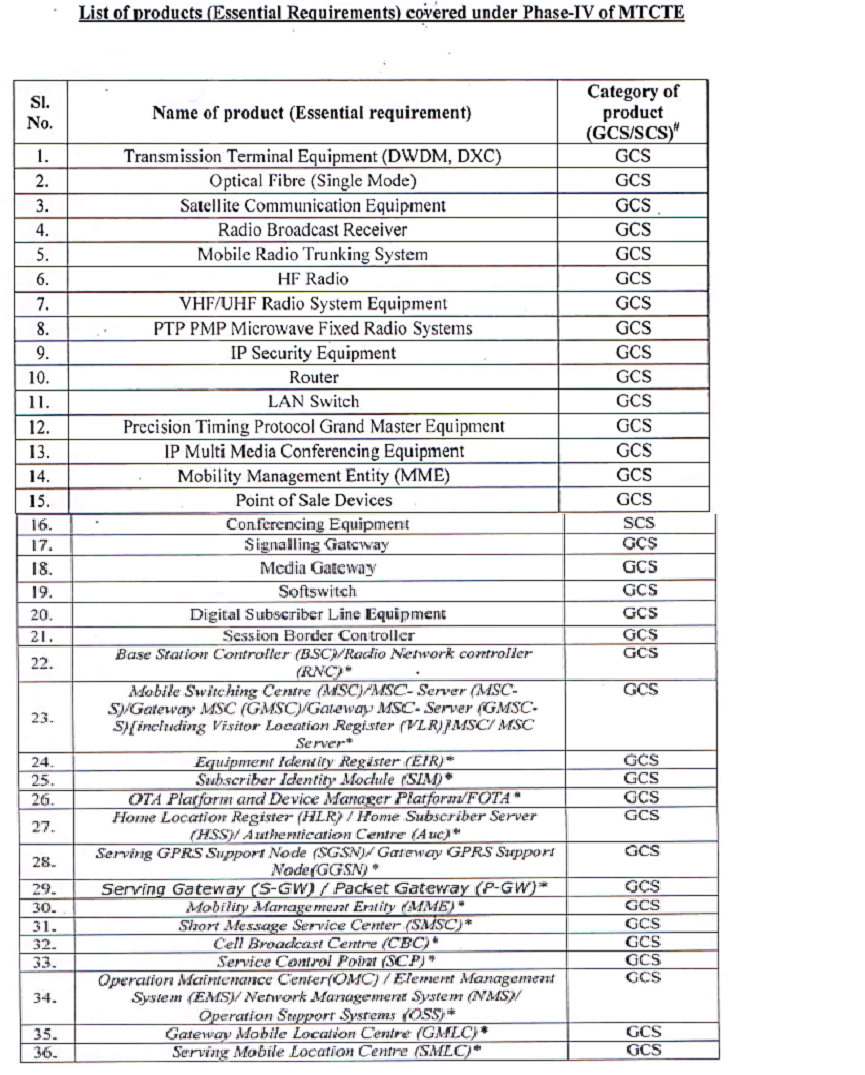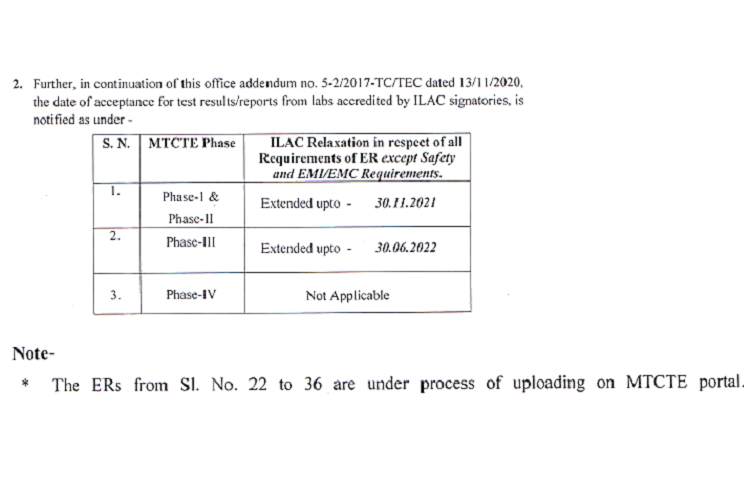 MTCTE Procedure of Application
TEC gov mandatory testing certification telecom equipment MTCTE is an authorized way to obtain certification that your CSC is using verified equipment. The application for certification under MTCTE should be submitted through the MTCTE Portal where the process will be managed online. To ensure that telecom products conform to existing guidelines, the governing body tests them. The TEC certifies them. The companies that manufacture such telecom products must submit an online certification application. Following that, other procedures must be followed. The guidelines are also very important to manufacturers. Be sure you understand what MTCTE is all about.
Original equipment manufacturers or OEMs, importers and dealers can all qualify for MTCTE certification. TEC certification must be obtained by the concerned party. When you meet all the needs, an MTCTE notification will appear informing you that you have been registered.
On July 24, 2020, the Central Board of Indirect Taxes and Customs (CBIC) issued instructions concerning the mandatory testing and certification of telecommunication equipment (MTCTE). As stated in the notification dated June 23, 2020, vide notification number TEC/01/2017-TC, the department reiterates that the first paragraph provides operational guidelines that must be followed.
In order to meet the essential requirements, the manufacturer, importer, or dealer must submit a test-wise compliance report based on the set parameters. Testing results shall then be compared to the parameters. Under this certification, there are several types of schemes. Generally, they are:
⦁ Simplified Certification, this scheme requires the applicant, whether an importer, manufacturer or dealer, to submit a self-declaration with a test-wise report or a compliance sheet through the portal. As with all rules, they apply. The results are not required, however. A self-declaration will suffice for certification.
Simplified Certification Scheme (SCS) is applicable to Group A equipment.
⦁ General Certification, for this scheme, the applicant must apply online as well. Because you are the applicant, you need to submit the product for testing first. Your product must meet the essential requirements. A-TEC evaluation of the test results is also required. Certification will be granted if your reports meet the requirements. MTCTE Certifications are not that difficult to obtain.
General Certification Scheme (GCS) is applicable to Group A, Group B and Group C equipment
MTCTE Certification Documentation
(Documents / Technical Details Required for TEC Certification)
Legal address proof of the Manufacturing Unit
⦁ Copy of Factory License mentioning the relevant product as the scope of manufacturing and indicating the address of manufacturing unit – in English as well in original language
Registration purpose:
The documents required for registration are:
⦁ Company Registration certificate: The acceptable document is either the Certificate of Incorporation issued by the Registrar of companies in case of a company or Partnership Deed in case of a firm or Establishment License wherein the address, business description, and activity is specified in case of a single owner proprietorship (e.g. Business License etc.)
⦁ Authorization Letter: A letter of authorization given the AIR company/firm to authorize a person to carry MTCTE related work on its behalf.
⦁ Affidavit or MoU Document: Any legal document clearly describing the type and validity of relationship between the AIR and foreign OEM i.e., for sale of its products in India.
⦁ AIR Authorization Letter: The authorization letter issued by Foreign OEM to AIR clearly authorizing the AIR to carry MTCTE related work in India on its behalf with validity mentioned.
Technical Details about the Product
⦁ Sample(s) along with user manual and accessories to run the product
⦁ Product name, Brand name and Model number
⦁ Safety critical components list
⦁ BoM (Bill of Material)
⦁ PCB layout and circuit diagram of the product
⦁ Main's power / SMPS Layout and circuit diagram
⦁ Details of series models, if any – please refer the series guideline
⦁ Copy of marking label
⦁ OEM support to configure the product for functional testing, if required
Details of AIR (Authorized Indian Representative), in case of foreign manufacturer
⦁ KYC of AIR Company
⦁ Details of signatory person
Additional Technical Details in case of Cell / Battery
⦁ UN 38.3 test report (Transportation of Dangerous Goods) for lithium-ion cells and batteries
⦁ ISO 9001 certificate
These certifications are becoming increasingly important if you are selling telecom products. Additionally, there are numerous agencies that can lend a hand. Additionally, it saves you time and hassle.
How ICStask can help you?
A number of laboratories around the country have partnered with the government in order to conduct the tests. You can get the certification from these agencies that fall under the government's umbrella. Experienced professionals will review your test reports. They have strong backgrounds in subjects pertaining to telecom. Moreover, they have engineering backgrounds. Your certification specialist can identify the gaps in your knowledge, if any, and can guide you through the process. Then, all you have to do is fill in the gaps to smoothly have the certification delivered right to your company's doorstep.
ICSTask will provide assistance in a variety of ways to help you achieve MTCTE Certification. We will initially assist you in preparing the documentation for your certification. This is an important step, which all telecom manufacturers, importers and dealers need to follow.
Further, it is likely that there are very few people who do not understand the entire process. If you find yourself in such a situation, you will need our help and we will be there to support you every step of the way. Fortunately, this will greatly alleviate the situation. Also, obtaining certification can be achieved within a short period. Authorized Telcom service providers are able to distinguish themselves from others by implementing this process.
A certification like this is extremely important in today's world. A large number of telecommunications products you use every day come from MTCTE. By completing the certification process you will be on your way to becoming certified. Consider contacting one of these government-certified agencies if you are unable to complete the certification process on your own. ICSTask can assist you in getting certified today.
As a whole, the MTCTE Certification standards have gone through a lot of changes in 2020. As well as the products mentioned here, additional products have also been included in the list. Furthermore, 50 laboratories have partnered for mandatory testing to ease off some of the government's pressure.
Today, the association appears to be fruitful from numerous angles. With more players entering the market today, this certification has become increasingly important because of the nature of business. You will be required to abide by this global certification standard according to Indian laws.
Frequent Ask Questions:
Q. What is MTCTE?
Considering the importance of protecting end-users and the general public from radiofrequency emissions from telecom equipment, certification of this equipment has become extremely important. Uncertified telecom equipment may also degrade the performance of the network to which it is connected, presenting a threat to business efficiency. Every piece of telecom equipment in India must undergo mandatory testing and certification prior to sale, importation, or use. Under MTCTE (Mandatory Testing and Certification of Telecom Equipment), this is regulated. MTC covers 46 types of telecom products along with variations within each type of product. Laboratories designated by TEC perform tests to ensure that the equipment complies with essential requirements. Testing reports are used to issue certificates by TEC. India's department of telecommunications had mandated that any telecom equipment be tested and certified before use. Those who intend to import or sell telecom equipment in India need to obtain a certificate from the telecommunication engineering center (TEC) and mark or attach a label of certification. A-TEC certificate will be issued for the model of telecom equipment and the certificate will be valid for five years.
Q. How do I get MTCTE certification?
It is mandatory for telecom equipment to undergo mandatory testing and certification before sale or import under the Indian Telegraph (Amendment) Rules, 2017. There must be a label on the equipment that indicates compliance. In accordance with India's National Policy 2012 and modified Telegraph rules 2017, testing & certification of all telecommunication products are necessary to ensure the safety of connectivity and seamless working of existing & future networks.
To achieve TEC Certification, you must complete the following steps:
1: Registration on TEC Portal.
2: Allotment of Testing Lab.
3: Submission of Samples for Testing.
4: Receiving of Test Reports.
5: Submission of Documents & Payment to TEC.
Q. What are the uses of the MTCTE certificates?
It is a system whereby any telecom product entering the country or being produced there must conform to some minimum standards (known as Essential Requirements (ERs)) regardless of whether the product connects to public networks or interfaces with them. A phased approach is likely with products being introduced under the MTCTE list and eventually covering all telecom products. There are various products in the telecommunications sector that require TEC certification.
These include, for example:
⦁ Cordless phones.
⦁ DSL equipment.
⦁ smartwatches.
⦁ Routers.
⦁ Communication devices using microwaves.
⦁ IoT Gateway.
Q. What is the validity of the MTCTE certificate?
A certificate issued by the seller shall be valid for five years. There is no need to obtain a certification more than once for a model of equipment and it is valid for any quantity of that model. If a different model of equipment is needed, a separate certification must be obtained.
The associated models of the main model/certified model of the telecom equipment shall, however, be certified without testing. Furthermore, all hardware configurations of equipment that are formed by using a subset of modules or chases from the family shall be considered certified if the equipment has been tested and certified under the family definition.
Testing and certification under MTCTE are only available for complete, independent, standalone devices. Modules and components of the equipment are not included in the MTCTE framework.
Moreover, independent pieces of equipment combined to form systems are not certified under MTCTE; instead, every independent piece of equipment should be certified individually.