ICStask can provide valuable assistance in helping you obtaining the Bee Certification, ensuring that you are compliant with all relevant laws and regulations.
Let's​
Transform
your Business
Introduction
A necessary requirement for numerous Indian businesses is Bureau of Energy Efficiency (BEE) validation. It is a sign of energy efficiency, permitting organisations to make the most of their energy use and reduce their carbon footprint. In this comprehensive guide we will provide you with all the information you need regarding BEE certification.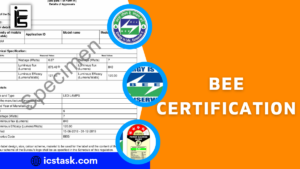 What is BEE Certification?
A rating system known as BEE Certification checks the energy productivity of machines and gadgets. For numerous businesses in India, such as cement, steel, paper, and thermal power plants, it is a must. A scale of 1 to 5 stars, with 5 stars indicating the most energy-efficient, is used to grade the item.
Benefits of BEE Certification
Businesses can reap many rewards from BEE certification. They may be able to decrease their ecological impact and utilize energy more proficiently, leading to long-term financial savings. Furthermore, it can aid firms in meeting government-mandated criteria for energy conservation.
How to get BEE Certification?
To secure BEE accreditation, complete an uncomplicated process. Firms must present their machines or gadgets to the BEE for assessment. If the item of machinery or apparatus complies with the BEE's energy conservation standards, then a rating will be awarded. Furthermore, the apparatus or gadget will be documented on the BEE website, which can facilitate enterprises in exhibiting their determination to energy efficiency.
Conclusion
BEE certification is a must for many Indian industries, in a nutshell. It can help firms optimize their energy utilization and decrease their environmental impact, resulting in lower expenses. Companies can easily get BEE certification and show their dedication to energy-efficiency by following the instructions laid out in this guide.
How ICStask can help you?
Overall, Inspired Certification Services (ICStask) can provide valuable assistance in helping you obtaining the Bee Certification, ensuring that you are compliant with all relevant laws and regulations